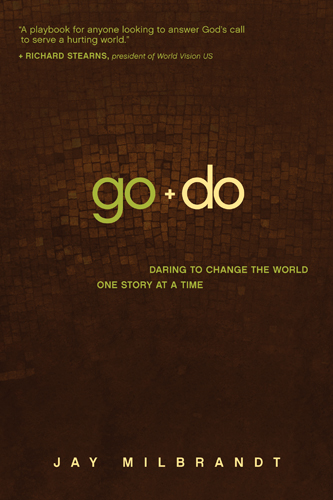 GO+DO
DARING TO CHANGE THE WORLD ONE STORY AT A TIME
Jay Milbrandt
Tyndale House Publishers, 2012
Here is a book I wish I had read sooner. When I first received "Go+Do" from Tyndale House Publishers I was in an incredibly busy stage of life. My dad was about to be released from prison and my spring semester of seminary was coming to an end. Looking back, I would have been better served by not placing this on my "roundtuit" list. Now that I have actually read the book, I am grateful.
As a forewarning for potential readers, this is not a book filled with great theology. I would urge you to read Milbrandt's work with your theological guard up. At the same time, Milbrandt's intention was never to give good theology. On the contrary, the title well summarizes his purpose. He wants to
inspire
his audience to "go and do" the work needed to aid in a hurting world.
Milbrandt offers numerous illustrations of how his "go and do" ministry philosophy has succeeded in helping suffering persons across the globe, mainly in Africa and Asia. To his credit, Milbrandt is fearless, not so much planning out what he wants to accomplish, but going and figuring out what needs to be accomplished. There is much to be said for this idea.
When we preplan every step we are going to take, we often become more concerned about the plan than the need. Further, if you are going to aid in non-Western cultures as Milbrandt primarily has done, taking a plan with you is likely going to set you up for discouragement. Other nations do not function in time as we do. Time is more relative, less important, and too abstract for persons around the globe to be concerned with. We have given time its importance in a fast-paced society.
Secondly, the idea is not comfort. Comfort and safety ought to be the least of our concerns. Millions of innocent people are suffering from poverty, starvation, genocide, murder, and slavery just to name a few issues. Our goal, as Christians focused on transforming the world, ought to be more concerned with the needs of hurting people than our own comfort. Being Christian is not a ticket for safety, it calls for one to be give up his life to take the Gospel forth.
Lastly, I would warn readers to realized beforehand that Milbrandt's book does not give indication that his missions are for the purpose of evangelism. It's interesting that he quotes David Platt's
Radical
when Platt stands firmly against only providing for needs, considering that "missions." At the same time, Milbrandt never indicates that he believes his work would count as "missions" either.
To be clear, there is absolutely nothing wrong with providing for the needs of the suffering. I commend Milbrandt for his global initiatives. But, that is not missions. That is service and both are necessary. If we give shoes without the Gospel, then we've fulfilled a temporal need. If we give the Gospel without shoes, then we risk proving the Gospel with our lives. However, if we give a pair of shoes and present the Gospel, then we've fulfilled a temporal need and an eternal one. That latter is much more important, but cannot be divorced from the first.
I do recommend this book. However, it may do a reader well to couple this book with Kevin DeYoung's
Just Do Something
. Both will help readers discover purpose in life. Both will aid you in sacrificing your life in order to build the Kingdom.
I received a free copy of this book from the publisher to give a review. I was not required to provide positive feedback.